Control At Your Fingertips.
For over a decade, Pet Stop® has been the leader in technology – providing more custom settings to individualize our products than any other manufacturer in the industry. Now, they bring you Link™ – a fully user-interactive App available for your smartphone!
Pet Stop®-Exclusive Products
In this video:
See our rechargeable receiver lineup
Diagnostic Charging Base
Link™ App Demo
What's coming soon to Pet Stop®
The Link™ mobile app brings interactive smart-features to underground pet-fencing for the first time ever! With Link's bluetooth connectivity to your smartphone, you can:
See how many times your pet has interacted with the boundary
Adjust the GentleSteps™ correction-level on your pet's receiver
Receive notifications when your pet's receiver needs to be charged
Issue an audible warning or nick to discourage unwanted behaviors
Communicate with your dealer
… and much more!
Pet Stop® offers you these convenient features as one more way to ensure you have peace of mind, and support with your containment system.
Diagnostic Precision. Keeping You in Charge.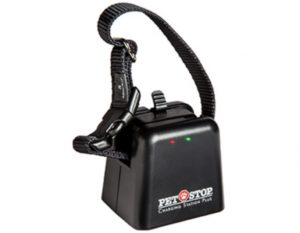 Pet Stop® is the exclusive provider of not only a rechargeable receiver, but of a diagnostic charging cradle. It can fully charge an EcoLite™ receiver in 3 hours – indicating with an LED when complete. With a simple test that happens automatically every time you charge, you'll also know if something is wrong before your dog does. It's one more way PetStop is Safer by Design.